Global warming has become one of the most concerned issues of society. Therefore, the use of renewable energy that does not produce polluting emissions or greenhouse gases is booming. According to the International Energy Agency (IEA), renewable energy is the world's second largest source of electricity. According to the International Renewable Energy Agency (IRENA), the power generation of clean energy increased by more than 8% in 2017, exceeding 2.179GW globally. Among all renewable energy sources, photovoltaic stand out, growing at an annual rate of 10%, accounting for 32% of the total. Photovoltaic modules are exposed to weather conditions that may affect their efficiency. They are located in large areas with high levels of solar radiation, without trees and taller objects-all these characteristics are related to the risk of lightning strikes. Over 32% of solar panel damage is caused by lightning, and atmospheric discharge is the primary cause of damage to photovoltaic modules. Sites with a capacity of 100MW or above can be directly connected to the grid, and lightning strikes may affect the site itself. The direct impact of lightning and its induction effect may damage or even destroy photovoltaic modules, charge controllers and other electronic components. In addition to reducing the life and efficiency of solar panels, these damages also mean economic losses due to replacement costs and repair of defective components. The last aspect is very important, because the return on investment of a photovoltaic system takes about 20 years and only increases when damage or degradation is considered. The impact of atmospheric discharge on solar farm sites means that it is essential to protect them through the use of surge protection and photovoltaic grounding devices.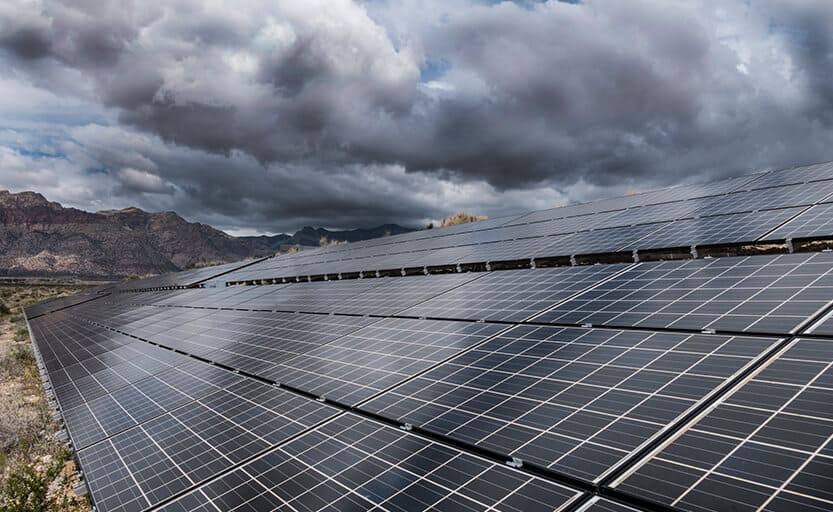 Internal lightning protection system can avoid surges in solar farms
Lightning strikes, whether on or near the photovoltaic power station, may cause a surge in the photovoltaic system and cause damage or destruction to the electronic components of the photovoltaic module. This is damage. The international standard IEC 60364-7-712 recommends the use of a surge protection system, and the German Insurance Association requires it to be included in photovoltaic installations of 10kW or higher. Compared with other power generation systems, solar farms use direct current. Therefore, the photovoltaic grounding device of the solar power field must be specially considered for DC protection and should be installed in every photovoltaic system that may be affected by lightning.
External lightning protection system to avoid damage to the solar farm
In order to prevent thunder and lightning from impacting photovoltaic modules, it is recommended to install photovoltaic grounding devices in the inverter concentration or other photovoltaic system areas. In the design stage, the location and number of lightning rods must be optimized to produce the smallest possible shadows, thereby avoiding or minimizing their adverse effects on energy production. Whether the shadows are produced by lightning rods or other objects, they can be diffuse or defined.
Earth Bar Solar Field
Sunlight Earth Bar, unlike other photovoltaic grounding devices, Earth Bar will provide a convenient common grounding point for electrical installations. Therefore, using less Sunlight Earth Bar can minimize the possibility of photovoltaic modules being struck by lightning. Compared with other Earth Bars, one of the advantages of Sunlight Earth Bar is that it can maintain the photovoltaic system.
Grounding system in photovoltaic modules
The grounding system is a basic component of electrical installations including photovoltaic systems. Its function is to dissipate the current in the terrain, whether it comes from atmospheric discharges or defective discharges. By doing so, the photovoltaic grounding device can prevent the potential difference from damaging the device and injuring personnel.
If you are interested in protecting your PV modules from lightning strikes, please feel free to contact us. The above is the explanation of Sunlight's relevant suggestions on the installation of photovoltaic grounding devices. If you want to learn more about Sunlight providing customers with high-quality photovoltaic grounding devices, please continue to pay attention to the Sunlight official website. We will update related products from time to time and provide related product information and materials. We look forward to your visit and consultation.
Tags: photovoltaic system, photovoltaic module, photovoltaic grounding device